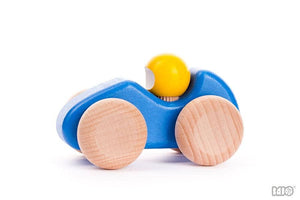 BAJO Small Racing Car
This adorable racing car is a lovely part of Little Poland Gallery's collection for tiny people. This little racing car zooms easily across any surface. This racing car has water-based paint, making it safe and the rounded edges make it childproof. The small size makes this little car easy to take anywhere, pocketing it away into your purse or pocket. This little racer is revving up, waiting to drive anywhere with your child and their imagination. Made for ages 1.5+ years and up. Size: 3.25" x 2" x 2".  Made in Poland.
You will receive an assorted color.