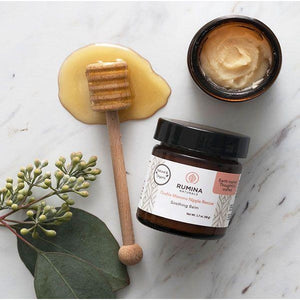 Rumina Naturals Ouchie Momma Nipple Rescue
We get it: sore, cracked nipples take the bliss out of what should be a joyous and comfortable experience for both you and your baby.
Ouchie Mama to the rescue! Developed by an International Board Certified Lactation Consultant (IBCLC), our nourishing formula is unlike any other nipple cream for breastfeeding. Our anti-microbial formula features medical grade, sterile Manuka honey to provide extra support when you need it most. Plus you don't need to wash it off prior to feeding.

A truly natural, anti-inflammatory solution for nipple care that's completely safe for your newborn.

Rapidly relieves discomfort of sore, irritated nursing nipples.
Protects and moisturizes nipples to prevent cracking
Pro Tip: once you're done nursing, pop it into your first-aid kit. It's amazing for helping to heal cuts and scrapes.

Ingredients:
Coconut Oil (Cocos nucifera)*, Beeswax, Fractionated Coconut Oil (Cocos nucifera), Green Tea Oil (Camellia sinensis), Sterile Medical Grade Manuka Honey, Vegetable Glycerin*, Olive Oil (Olea europaea)*, Cocoa Butter (Theobroma cacao)*
*Organic ingredient.